128 N Swall Dr | Le Chambord Condos
No properties found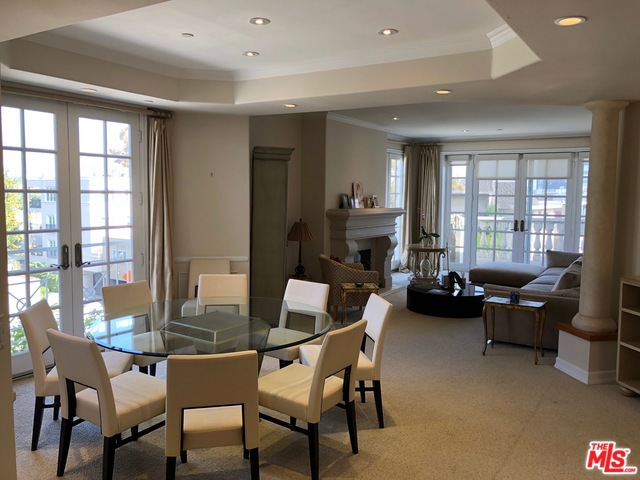 $6,095
Active
128 N SWALL Drive PN6 Los Angeles, California
2 Beds 3 Baths 1,693 SqFt
One of the Best Buildings on the Block! Beautiful Elegant French Condos for Sale in Beverly Center
Le Chambord
128 N Swall Dr
Los Angeles CA 90048
Do you want to practice your french? Le Chambord is fancy, and superb. I personally love these condo's Living Room French Windows, and the balustraded balcony. 128 N Swall is a newer construction, 30 unit, low rise condo building in Beverly Center. Built-in 1991 by developers Goldrich & Kest, the complex has an Old World European styling with symmetrical columns, balustrade balconies, French doors, hard-stone Marble & Granite and 2 elevators. Traditional furnishings fit best. However, you can have fun and break the rules!
I love this building. It is one of the best buildings in Beverly Center and sells for about $200,000 less than comparable condos in Beverly Hills on Oakhurst, which is great if you don't need Beverly Hills schools. It's a quiet building, with an active HOA. Whenever I walk the hallways in the summer I get the shivers, because they are freezing cold! I think every owner here locks their thermostat at 60 degrees! If you are looking for a condo for sale in Beverly Hills, look no further than this gorgeous building!
Location
128 N Swall is located in the best condo neighborhood of Beverly Center (although some would argue for the West Hollywood area of Beverly Center). 128 N Swall neighborhood is located right NEXT to Beverly Hills. It definately has the Beverly Hills feeling about the neighborhood. In the last 5 years with the comeback of the Beverly Center and growth on 3rd street, the walkability has dramatically increased- it was average before, and now I would say above average. 128 N Swall in between Beverly and 3rd. Condos are a short walk to Cedars-Sinai Hospital, the mega shopping mall the Beverly Center, and the nearby cities of West Hollywood and Beverly Hills.
There are so many dining options! Celebrity Hotspot the Ivy is a block away. Trendy Lemonade is on Beverly. Bristol Farms grocery is on the corner of Doheny and Beverly. Both 3rd St and Melrose have a number of restaurants as well as the Beverly Center. New Comer Henry's is quickly rising, and the Granville across from the grove are nearby.
If you need some new furniture to decorate your condo, the best of the best furniture retailers in Los Angeles are located in the area. The Pacific Design Center with the great blue whale is up Robertson. Restoration Hardware's new "RH Modern" store is across the street from the Ivy. Italian Furniture maker Minotti has a store on Beverly. Basically, every company you see in Elle Decor or Architectural Digest has a showroom in the area.
Robertson offers high-end retail clothing stores such as Chanel, Michael Kors, The Kooples, Jovani's, All Saints, and Greg Chapman's.
Are you a Starbucks person or a Coffee Bean Person? Whichever side of the fence you are on, both coffee shops are across the street from each other at the corner of Beverly and Robertson. Now there is a Blue Bottle to for all you third-wavers- yes your coffee tastes better.
With such a prime location, why would you not want to look at this condo for sale in Los Angeles next to Beverly Hills?
Real Estate
Turnover Ratio? 3.5% or about 1 condo a year.
Record sale: $1,050,000 8/25/2016
Appreciation: 4%
128 N Swall is 4 stories, with the Condos on the 4th Floor being the Penthouses. There are 8 condos on each floor, except for the first floor which only has 6 condos to make room for the entry ('02) and the gym and conference room ('04).
All of the floor plans are single level and have 2 bedrooms + den and two and a half bathrooms.
Square footage ranges from 1,350 sqft to 1,762 sqft. Bedrooms are a split layout. Condos have grand formal entries flanked by four vertical columns, marble floors, and raised ceilings. This is a great opportunity to decorate with an intricate stone inlay. A circular pattern would align with the cove ceiling above. If a new marble flow is out of the budget, a circular rug also does the trick, if you want to add some Oomph to the Entry.
Off the Entry is a Powder Room and Laundry Room. The Laundry room has space for side by side washer and dryer with some cabinets above.
The Main Room has three spaces the work with each other- the Living Room, Dining Room, and Den. Den's can work for a bedroom but they won't be very private. The dens work great for libraries, offices, play areas, and hobby rooms. The formal dining room comfortably seats 6. Living Rooms are about 250 sqft to 300 sqft and have a huge stone mantel fireplace as a focal point. The fireplace can be set up to burn wood or use gas.
Connected to the living room are french doors that lead out to a private Balcony. Condos in the '01, '02, and '03 stacks have street-facing views of Swall. Stacks '04 and '05 face the interior courtyard with the pool and spa, and '06, '07 and '08 are street-facing to Clark.
Kitchens are galley style and have granite countertops. There is a nice breakfast area room for a round table and two chairs that is a nice place to sit and have your morning coffee while reading the paper. The Stove is gas.
Bedrooms have a split layout. Each bedroom has a full en-suite bathroom. The Master bedroom is larger in size than the other bedroom suite and has a walk-in closet and large master bathroom. The master bathroom has a separate tub shower and double vanity.
Penthouses have a large round skylight in their foyers.
For the time being the HOA does not allow wood flooring on the 2nd, 3rd and fourth floors, but they have been talking about revising the CCRs.
Top Amenities in the Best Condo for Sale in Beverly Hills
–Pool
-Rec Room (has a kitchen)
-Gym (new equipment in last 5 years)
-Lobby
Storage Unit
(2) Elevators
Parking and Laundry
Each condo has two deeded parking spaces in a subterranean garage that you enter from Swall. Parking spaces are mixed between side by side and tandem, but mostly side by side. There is plenty of guest parking. The building has 15 guest parking spaces.
Laundry is inside each condo in a Laundry Room located off the main entrance. Side by side washer and dryer with gas hook up and some cabinet space for linens and detergent and a door that closes to block sound when machines are running.
FAQs on this Condo for Sale in Beverly Hills
Home Owners Association
The homeowners association is very active- they meet once a month.
HOA dues Monthly Cost? $685/mo. per condo
HOA dues cover? Water & Trash, Common Area Maintenance, Building Insurance, EQ Insurance, Reserves
Owner Pays? Electric, Gas, Internet, Cable, Condo Insurance
Any special assessments? None
Pet Policy?
Rental Policy? The lease must be at least 1 year or longer.
EQ Insurance? Yes (15% deductible)
Building Reserves? $250,000
Special move in instructions? $250 Move-in Fee
Can you have a BBQ on the balcony? NO
Management Company:
Manhattan Mgmt Inc
16350 Ventura Blvd # 309
Encino, CA 91436
(818) 907-6047
Manager: Cookie Valente
818-990-4436
Are you ready to view this incredible condo for sale in Beverly Hills? Do you have more questions?
Please call me directly at (310) 388-7332 or click the button below and I will be in touch shortly!