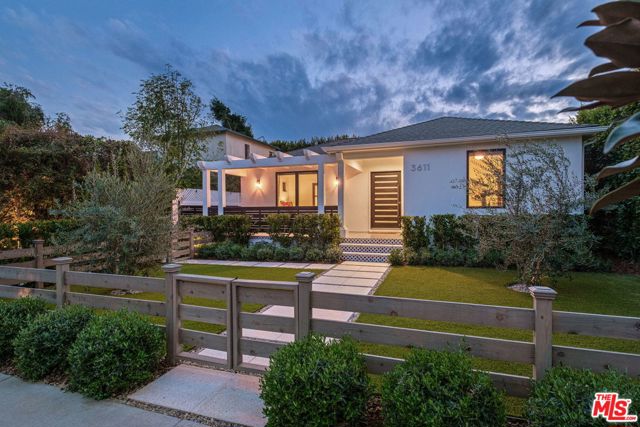 $2,189,000
Active
3611 MOORE Street Los Angeles, California
4 Beds 3 Baths 2,097 SqFt
$6,250
Active
3513 May Street Los Angeles, California
3 Beds 2 Baths 1,750 SqFt 0.135 Acres
Post War Modern Tract Houses
The Gregory Ain Mar Vista Tract is a group of 52 homes that was built in 1948 by famous modern architect Gregory Ain and landscape architect Garrett Eckbo. This project is probably his most well known. What make Ain's tract home different from other tract homes being developed at the time was that his were modern. During the 1950s, there was a huge building boom and several hundred tract homes were being built in Los Angeles each week. The tract homes were predominantly ranch styles houses like the tract houses built in nearby Mar Vista neighborhoods of McLaughlin and Westdale.
Location
Gregory Ain's Modern homes are located in the Mar Vista neighborhood of Los Angeles and can be found on the SE intersection of Palms Blvd and Beethoven St. The homes run along Meier, Moore, and Beethoven streets, between Palms Boulevard and Marco Place.
Gregory Ain's 'Social' Architecture
Gregory Ain was raised by Socialist parents. Their philosophy influenced him deeply. Ain believed that he could solve many of the world's problems by developing low cost cooperative housing. Unfortunately, his ideals didn't match up with the American consumer or economics, and his projects had to be sold to individual owners when marketing them as cooperatives failed to produce buyers.
For an architect as talented as Ain, he could have had a very lucrative career designing large commercial buildings or expensive custom homes for wealthy clients, but he dedicated his life to his beliefs and building affordable housing for the working class. In an ironic twist, nowadays the working class can no longer afford Ain's homes!
Harmonious Design with a Park-Like Setting
Ain succeeded in creating a family-friendly neighborhood. With the Large front yard setback there was plenty of room for children to run around and play, the streets had limited traffic (except Beethoven!) and were excellent for kids to play on the street. Although the developers did not provide parks, the idea was for front lawns to remain unbroken by fences to provide a park-like atmosphere.
The efficient layout of the homes allowed a family of three or four to function comfortably in a relatively small space (1,050-1,400 sqft).
The streetscape was designed by Eckbo and plays a large role in the overall feeling of the community. Ain and Eckbo wanted there to be a cohesive feeling to the neighborhood, but not have every home be identical. Eckbo accomplished this by planting different types of trees on each of the streets that gave each street its own streetscape. One interesting fact: there are no street lights!
Trees: Ficus on Beethoven
Trees: Melaleuca (Native to Australia) along Moor
Trees: and Magnolia Trees on Meier.
The Melaleuca trees on Moor are my favorite. Ain and Eckbo planned to have no separation or fences between the lots of each house and create 'communal backyards'. This idea didn't catch on with the new owners who valued privacy in their backyards. They quickly put up fences after they bought (some even complained about the extra expense to put up the fences which they felt should have been included in the original design)
One thing I love about these houses is the location of the kitchen- it is right in front of the houses just off the front door. This allows Mom or dad to keep an eye on the kids when they are playing out front inside from a big window over the kitchen sink. The Houses that are Rotated perpendicular do not have this set up, but conversely they have much better curb appeal.
Common of the mid century modern design elements, these houses have horizontal lines from flat roofs, and floor to ceiling glass that lets in the maximium amount of light. The Kitchen, Dinning Room, and Living Room were all open to each other.
One solution Ain thought up was flexibility for a 3rd bedroom or den but using a folding wall panel that could easily be opened or closed depending on the owners needs.
To keep things different Ain altered the facades of the tract homes by changing the garage placement or rotating some of the houses perpendicular to the street. He also used different paint colors.
Commercial Failure
The subdivision was marketed as "Modernique" Homes. Sales started slowly, and sold out after one year. Originally the developers had planned on two phases that would contain 100 houses on 60 acres, however only the first phase of 52 homes was realized. Even with Ain's best effort to keep costs down, these houses were more expensive than comparable size tract homes in the area. The original selling prices for a Mar Vista Modernique home was $12,000
Real Estate
Believe it or not, yes you can own a piece of history! Most owners who buy a Gregory Ain Mar Vista track stay there for a quite a long time. It is not uncommon for owners to stay 30 years plus. The average turnover ratio is very low at 2.5% a year. About 1 house sells a year on average.
The homes are modest 3 bedrooms. The average size is 1,400 sqft. Originally built as 1 story houses, the HPOZ prevents second stories from being added. Average lot size is 7,000 sqft. Historically these homes have appreciated at a rate of 6.5% which is higher than the average for other homes in the neighborhood. Homes in good condition are selling for $1.2M.
Homes on Beethoven will be less than Moor or Meier because Beethoven is a busy street and the other side of the street is a separate subdivision so these homes don't get the full effect of the neighborhood feeling Ain created.
Today
The Neighborhood is in excellent shape. It is really fun to give it a drive through. Gregory Ain Mar Vista Tract Became an hpoz in 2003 which was quite an accomplishment considering it was just barely over 50 years old then which is usually the minimum amount of time required to be considered for being historic. The HPOZ restricts building second stories, tearing down a home, or installing front yard fences. Mar Vista Ains houses that have already had additions are grandfathered in. Basically, the HPOZ protects the front façades (anything that is visible from the street). One perk of being located in an HPOZ is contributing structures are eligible for the Mills Act, a state program that provides tax break for owners of historic property in order to allow them to preserve it.
Read More
No properties found
No properties found
National Modern Living
11500 National Blvd
Los Angeles CA 90064
11500 National Boulevard, also known as 'National Modern Living', is an 18 unit, two story, new construction (yb 2014), townhouse style, condo development in Mar Vista. This building is high tech. All of the condos are 2 bedrooms 2.5 baths starting at 1,500sqft. The exterior has a contemporary design with smooth stucco finish exterior, cable railings, slate flooring, and xeriscape landscaping- it's got great curb appeal!
Location:
11500 National Boulevard is located at the northernmost border of Mar Vista, very close to both West LA and the ocean park neighborhood of Santa Monica. Mar Vista is safe, and in the past few years has gentrified quite a bit as the prices in Santa Monica and Venice keep going up, many buyers are discovering the great value in Mar Vista, while still being a short 10 minute drive to the beach. You will experience 5 degrees cooler temperatures in the summer because of the ocean effect and the marine layer. LAX is quite close for an easy commute to and from the airport. The 10 and 405 Freeways are very close if you have a regular commute.
National blvd is a busy street- but no more busy than Pico and Olympic, and less busy than Ocean Park, and much less busy the Washington or Venice. The street is tree lined with mature 30 foot tall evergreen pine trees. The dropping needles from the trees can cause a bit of a mess, but these trees have beautiful rough gnarled bark, and really dress up the street. Pine trees also have a nice pine smell from their sap.
11500 National Blvd is in a great elementary school district- it is districted for Mar Vista Elementary. There are two grocery stores very nearby- there is a Ralphs at the corner of National and Sawtelle, and a Whole foods at the corner of National and Barrington. There is also a really nice Starbucks kitty corner from the whole foods.
One advantage of Mar Vista and this location is it is close proximity to the Mar Vista rec center which is a huge public park.
if you know a great local restaurant or bar please post a comment!
Condos
–Turn Key
-Modern Kitchen
-Big Living Room
-Nice master Suite
– Hardwood Floors
The townhouse style units have a powder room, living room, kitchen and dining room (seats 4-6), and balcony on the main level. The upstairs has two bedrooms and two full bathrooms. Some condo floorplans have the laundry closet upstairs, and some downstairs. Some condo floorplans have a small den. Size of the condos range from 1,500 sqft to 2,000 sqft with the vast majority being 1,600 sqft.
Following with the contemporary design of the building, the living room, dining room and kitchen are all open in an open style concept. 10 foot tall ceilings. For kitchens that do not have a center island, you can install a rolling island to define the space and give you some more storage and counter space. The kitchen counters are quartz – I think I would have preferred cesar stone over quartz, but these are nice. The tile back splash, brand new high end stainless steel appliances and the modern cabinets give the kitchen a very hip look.
The living room is quite large, which isn't always the case- so you get a really nice big living space in each unit. The natural place to put the TV is over the fireplace. The developer selected Engineered oak wood Floors that look great. The engineered oak wood floors cover all living space except for bathrooms which are tile. This is hypoallergenic and makes it easy to keep your place clean if you have pets. A new high-tech feature in the living room is an electric fireplace, which is one of the first I have seen around.
Condos have one balcony on the ground level, but they aren't very large, and the balconies in the back of the building face the alley so the view isn't great. Underneath the staircase is a storage closet for some extra storage space.
Traveling upstairs you will find that the master bedrooms are humongous! Some floorplans have walk in closets for the master while others have reach in closets.
The master Bedroom has a private master bath with separate soaking tub, double vanity, frameless shower and rain shower head Both bedrooms are very spacious and have good closet space.
Stackable washer and dryer is included by the developer in purchase. Climate is controlled by a brand new dual zone Central heat and air for the upstairs and downstairs.
Building
– Gym
-8'x8' Storage pen
-Open air Courtyard Halls with planter boxes and water features
-Lobby
-Bicycle Room
-Xerascaping
-Security Cameras
– Gated Subterranean Parking (entrance from Alley)
In a Mediterranean climate like LA you can do Courtyard style hallways, and open air hallways, so why not? One thing that is nice about having a courtyard style walkway is that you can have plants! 11500 National takes full advantage of the natural sunlight by having a dozen or so planter boxes with succulents and various types of greenery. In the main planter boxes in the center of the courtyard there are fountains that create a very pleasing sound of running water. This was a smart planning idea because it creates a median between the condos on either side and defines two paths. The color pallet for the building is white, and a bluish grey, that is accented with some splashes of red on entry doorways and fabric banners above the courtyard. The developer chose really nice aluminum and glass front doors.
18 units is on the smaller side for condo buildings, so you can expect to have less amenities but also lower HOA dues. With that said, this building has some really great amenities for its size. It has a fitness club in the P1 level that is decked out with a big flat screen TV, treadmill, elliptical trainer, dumbbells, and some circuit training equipment. The Gym also has a bathroom which is a bonus. The floor on P1 is concrete epoxy.
Each condo comes with an 8×8 storage pen on P1. The storage room is well lit and easy to access.
The lobby is decorated nice, but probably won't see much use. The building has excellent security with Key FAB entry system and security cameras.
One thing that might be absent is an elevator. The way the building is designed residents pull into the underground garage and then come upstairs the the P1 level. This means you have to climb up one flight of stairs with your groceries which can be a bother. The reason an elevator was not installed was probably to keep prices low.
Parking & Laundry
2 tandem Parking Spaces for each unit plus six Guest Parkings in an underground gated subterranean garage. Enter garage through Alley. Laundry in unit, in a laundry closet large enough for a stackable washer dryer and hookups for gas dryer.
Homeowners Association
HOA dues are $463/mo. and includes water, hot water, sewer, trash, building maintenance and building insurance
owner pays: electricity, cable, internet.
NO EQ insurace. Pet Policy? Rental Policy?
Read More