No properties found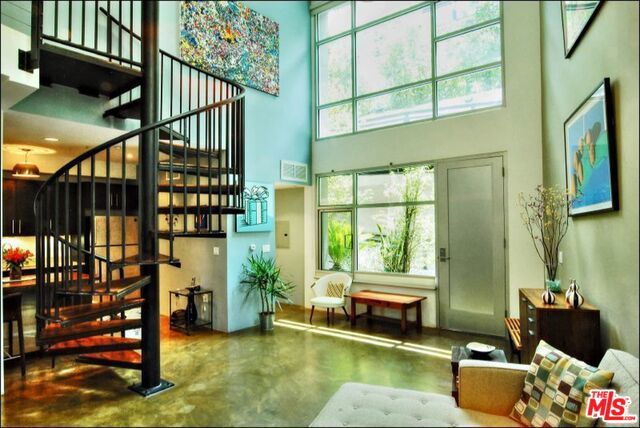 $3,200
Active
4111 W SUNSET 223 Los Angeles, California
1 Beds 2 Baths 1,090 SqFt
Sunset Silverlake Lofts
4111 W Sunset Blvd
Los Angeles CA 90029

4111 W Sunset is a 43-unit LIVE/WORK Loft condo development in the Sunset Junction Neighborhood of Silverlake. Developed by Kor Group in 2007, and designed by Rothenberg Sawasy Architects, the Stark Naked interiors with 19ft high ceilings and smooth polished concrete floors allow for multiple interpretations of how to use the space. Entertainers will love the cool building design and huge double-height living rooms. This location is the perfect jumping-off point for a rousing night out, with many of Silverlake's trendiest shops, bars, and restaurants right out your front door! Cafe Stella, Sweet Green, El Cide, Café 4100, Intellgensia Café, Black Cat, Tiki Bar, 33 taps, El Condor to name a few!
Location
Real Estate
Appreciation?
Turnover?
Record Sale? $900,000 #111 6/3/2017
All condos on the 1st-3rd floor are townhouse style LOFT floor plans (Not 400s row), One Loft Bedroom up and one-bedroom ground level. The row of condos facing sunset(42-49) on the 5th floor are all single story. There are (9) 1 bedrooms that range in size from 1,000 sqft to 1,250 sqft and (34) 2bedrooms that range in SQFT from 1,300sqft to 1,900 sqft. The building is built on a Downslope Lot so these are hillside condos. Ground Floor Condos (100's unit numbers) have 300 – 500 sqft patios. Otherwise about half of the condos have a small square balcony. Balconies are not easy to get. The condos that face Sunset have street-level patios and have street-level entrances. High ceilings, polished cement floors, Floor to Ceiling Glass aluminum windows and doors. The Kitchens are modern with stainless steel appliances. Living Rooms are Huge. Every Condo gets two parking spaces. There is a nice open courtyard with concrete walkways and potted Trees and other plants that is very clean. Prices range from 900K-1.1M. There is a small community garden on Manzantia and Mira goes under a bridge. Central HVAC
Amenities
Elevator
Parking & Laundry
Every condo gets 2 parking spaces in a gated garage, some of the condos have private attached garages. 17 guest parking spaces. Sxs or tandem?
Stacked Washer Dryer Laundry inside the condo in the master bathroom.
Home Owners Association
HOA dues Monthly Cost? $600-$700/mo.
HOA dues cover?
Owner Pays?
Any special assessments? No
Pet Policy?
Rental Policy?
EQ Insurance? Yes
CCRs?
Building Reserves?
Special move in instructions?
Can you have a BBQ on the balcony? Yes
Property Management company?
First Service Residential
310-981-9909
Read More
No properties found
No properties found

Silverlake Hilltop
2300 Duane St,
Los Angeles CA 90039

2300 Duane is a 10-unit townhouse development in Silverlake. Located on the top of a hill, just a hop skip and a jump from the Silverlake Reservoir and the Silverlake dog park these townhouses are extraordinarily bright (thanks to a bunch of big windows and skylights) and offer tons of outdoor space via several patios and balconies. Built-in 1982 by Fletcher Co. – these condos are all 2br/2.5ba 1,200 sqft townhouses with very high ceilings, and another nice perk- all condos have 2 side by side parking spaces! Low HOAs.

Location

Real Estate




Record Sale? $872,000 2300 Duane #6, Sale Date 6/17/2019

Turnover? 1 condo a year

Appreciation? 3.5%
Condos #1 and #10 are street-facing. Condos 1-5 faces North West, and Condos 6-10 Face South East.
Condos in Silverlake Hilltop are all townhouse style layout, 2 bedroom / 2.5 bath 1,200 sqft. One thing remarkable about these condos is that they have 4 balconies! There is one big balcony off the front entry and a smaller balcony off the living room on the front entry, and each bedroom upstairs has its own balcony as well. Condos are currently selling between 700K and 800K depending on condition. Living rooms are open with a combined living room/dining room/and semi-open kitchen. I like extra half bath on the main level, that is a great guest bathroom. These condos have gas so you get a gas range and gas dryer. Living rooms have a gas fireplace which is a fun place to add a personal touch decorating on the fireplace surround, and you can install hardwood flooring throughout since it's a townhouse. Bedrooms are upstairs, with a large master bedroom with soaring 16-foot ceilings and nice master bathroom suite. Since there is not a ton of space (1,200 sqft on a 2bedroom is on the smaller side) both bedrooms are side by side. In-Unit Laundry and Central HVAC.
Amenities
None
No Elevator
Parking & Laundry


Each condo gets 2 side by side parking spaces in a gated ground level garage. There is 1 guest parking space. There is extra storage in the parking garage as well.

Laundry is inside the unit
Home Owners Association
HOA dues Monthly Cost? $500/mo.
HOA dues cover?
Owner Pays?
any special assessments?
Pet Policy?
Rental Policy? 1-year moratorium on rentals. No Air BnB.
EQ Insurance?
CCRs?
Building Reserves?
Special move in instructions?
Can you have a BBQ on the balcony? Yes
Property Management Company?
Read More
No properties found
$4,000
Active
2399 Silver Lake Boulevard 17 Los Angeles, California
2 Beds 2 Baths 1,740 SqFt 0.970 Acres
Mix Lofts
2393 – 2399 Silverlake Blvd
Los Angeles CA 90039
Mix Lofts is a 26-unit modern 3-Level townhouse development in Silverlake. Built in 2005, this development was a prototype of small lot ordinance developments to follow. Mix Lofts are condos with an HOA and shared walls. This building is a great way to get into the Silverlake neighborhood if you cannot afford to buy a house for $1.5M.
Mix Lofts are LIVE/WORK Lofts that have flexible floorplans. The Floorplan can be configured into a variety of different ways- it can be 1, 2, or 3 bedrooms. The 2nd Floor (Approx 400 sqft or 35% of total sqft) is 100% flexible space and has a full bathroom to work with.
Mix Loft townhouses have attached two car garages. Located in the Ivanhoe Elementary School District. Low HOAs.
Location
REAL ESTATE
Record Sale? $759,000 (#12) 11/27/2018
All floorplans in Mix Lofts Silverlake are 3-level townhouse style. 2br/2ba range in SQFT FROM 1,000 TO 1,400 SQFT. These condos are currently selling for between $700K-$800K. Lofts #15-#26 face Glendale and have nice street facing views but also get traffic noise. The Street facing condos have a basement level floor and street entry, so their floorplans differ from interior facing townhouses.
Each townhouse has a modest balcony off the living room, The interior facing balconies don't have much of a view. The original developer flooring was distressed dark hardwood flooring. Many owners have either replaced the flooring or just removed it and polished the exposed concrete. I really like the living rooms with 17-foot high ceilings and big windows that let in a lot of light.
The Developer Kitchen had medium stain cabinets, stainless steel appliances, and granite countertops. Some owners have painted the cabinets and replaced the tile backsplash & countertops to give their townhouse a more custom feel.
The upstairs loft can be fully enclosed and has the best bathroom in the townhouse- so the Lofts are usually used as the master bedroom. Sorry No Walk-in Closet, although you could probably build one on the flex level if you wanted to make that the masterbedroom. The Loft has two reach-in closets. Central HVAC, and laundry inside.
Amenities
None
Parking & Laundry
Each Townhouse has a ground level 2 car attached garage. There are 9 Guest Parking Spaces.
Laundry is inside each condo on the 2nd floor Living Room/Kitchen level. Gas Dryers
Home Owners Association
HOA dues Monthly Cost? $300-$350/mo.
HOA dues cover? Water & Trash
Owner Pays? Electric, Gas, Internet & Cable, Condo Insurance
Any special assessments? No
Pet Policy?
Rental Policy?
EQ Insurance?
CCRs?
Building Reserves?
Special move in instructions?
Can you have a BBQ on the balcony? Yes
Property Management company?
Read More
$804,900
Active Under Contract
1847 Silent Era Drive Los Angeles, California
2 Beds 3 Baths 1,219 SqFt 0.023 Acres
$799,990
Active
1831 SILENT ERA Drive Los Angeles, California
2 Beds 3 Baths 1,307 SqFt
$3,990
Active
2207 SELIG Drive Los Angeles, California
2 Beds 3 Baths 1,219 SqFt
SL 70 – Silverlake 70
Clifford St & Glendale Blvd
Los Angeles CA 90026
SL70 is 70 small lot homes located right on the border of Silverlake and Echo Park on Glendale Blvd (it's on the Silverlake side of course!). SL 70 was built by Trumark homes in three phases between 2014 and 2015. JZMK Partners were the architects for this project. Trumark paid $12 million for the 2.3-acre lot. If you like SL70, you might want to check out nearby small lot developments: 36 on Echo, and Morton Village.
One of the interesting things you will notice right away about SL 70 is the community's interesting street names: Edendale Lane, Silent Era Drive, Fox Lane, Tom Mix Road, Polyscope Place, Selig Drive. The developer wanted to pay homage to the very interesting history of this area with SL70's street names. In 1909, this neighborhood was home to Los Angeles very first silent movie studio!
It was called Selig-Polyscope Studio named after its owner William Nicholas Selig. Several Studios sprung up around Selig Polyscope and from 1910-1920 when they were in their heyday, hub to the burgeoning Los Angeles silent film industry. Back then the area was called Edendale, a name which has fallen by the wayside and encompassed parts of Echo Park, Los Feliz, and Silverlake.
Tom Mix was Selig studio's Western star- he always wore his trademark 10-gallon cowboy hat. Fox Lane in SL 70 is named after Eponymous Fox Studios founder William Fox who came to the neighborhood later in 1917. Fox bought Selig studios which were struggling financially at that time.
Fox had played Selig studio silent films (among other studios like Boigraph, Essanay, Kalem, Lubin, Pathe, Vitagraph), in his numerous East Coast movie theaters. Starting in 1915, Fox expanded from building and buying movie theaters to also producing films. The Selig studio was Fox's first studio on the West Coast. He wasn't there long though, a year later in 1918, Fox moved from the Selig lot, which was .75 acres to a 15-acre site at Sunset and Western. After Fox left the Selig studio changed owners a few times and then fell into disrepair and was demolished. The advent of Sound in motion pictures, known as "talkies" in the 1930s and the rapid expansion of the movie industry in Los Angeles, quickly left humble Elendale behind as filmmakers moved to more glitzy and glamorous Hollywood. Does a bit of "silent era movie magic" still linger in the air? It is rumored that Charlie Chaplin invented his famous little tramp character here. Perhaps it does.
Location
Glendale Blvd is a major thoroughfare. It reminds me a lot of Olympic Blvd in Miracle Mile, although it is much shorter. Six lanes of traffic traveling both ways. SL 70 is very close of the entrance to the 2 freeway which takes you straight to Glendale, and the 5 FWY which will take you to Burbank. Downtown Los Angeles is a hop, skip, and a jump. Not to mention you live in Echo Park/Silverlake.
SL70's location isn't very walkable. The length of Glendale Blvd from Sunset to the (2) FWY doesn't have that many points of interest right now. I expect in the future to see more business move in as the area is currently undergoing an urban renaissance. There is a hip Hot Yoga studio right next store called Modo Yoga and a Vintage Record Store, Mono Records, to pick up some rare vinyl. If you are a musician Bedrock studios will be right up your ally- you can rent a practice space there. Bedrock also has a cool pinball room for retro gaming. More likely than not you will be doing your grocery shopping at Vons at Glendale and Montana (I love the architecture of that place, reminds me of Lautner's Garcia House).
SL70 may not be very walkable, however, it is absolutely bikable. you are just a short bike to Silverlake Reservoir and dog park, although SL70 has a small dog park on site and all the business and restaurants on Sunset Blvd.
Real Estate
SL 70 Sales brochure
Like many small Lot Developments these homes are designed as 3 story townhouses to maximize square footage, with roof top decks in lieu of a yard (except for floor plan 1 which has no rooftop deck), and side by side 2 car attached garage.It is not cost effective to add elevators so there are stairs to each level.
SL 70 has four different floor plans- they are numbered: 1,2,3,4 respectively. Floorplans 1,2, and 4 are two bedrooms, and floorplan 3 is three bedroom. SL70 is built on the smaller side for a small lot development to keep the homes affordable. Sizes range from 1,200 sqft to 1,500 sqft (I have seen some small lot developments go as high as 1,800 to 2,200 sqft). Original Prices are $600,000 to $800,000.
What the smaller size means for owners is that bedrooms are going to be a little tight and not have as much closet space. Another space saving trick the developer used was they moved the powder room which usually goes on the second floor along with the open living room, dining room, and kitchen, to the downstairs off the entry and two car garage on the ground level. The Laundry room is a laundry closet which is big enough for a stackable Washer Dryer but not a side by side. It's a little inconvenient for guest to walk downstairs to use the powder room but not a big deal- I'd be happy I have a powder room in the first place!
These homes have an outstanding price for new construction in this area.
Kitchens are tricked out with Bertazzoni 30" stainless steel range, Bosch Dishwasher, Microwave, and fridge. The kitchens have Quartz countertops, an island with room for seating, and European style cabinets. You get beautiful hardwood flooring on the second floor (**cough cough** Morton Village tile) and carpet in the bedrooms upstairs.
You get a surprising amount of view from the rooftop balcony. 10-foot high ceilings in the Living Room and Tankless water heaters.
Homes that are closer to Glendale Blvd will get street noise so I'd expect them to sell at a slight discount to homes further away from Glendale Blvd.
Amenities
There is a small dog park on the property, otherwise, there are no other amenities.
Home Owners Association
There is no HOA per se since these properties are technically houses where you own the land underneath and they share no common walls. However, there is modest maintenance fee to maintain the common area driveways. It's important to remember that unlike a condo, you are responsible for the maintenance on your home.
Are you ready to see this incredible property? Have any more questions? Please call me directly at (310) 388-7332.
Read More