10550 Wilshire Blvd | Wilshire Thayer Condos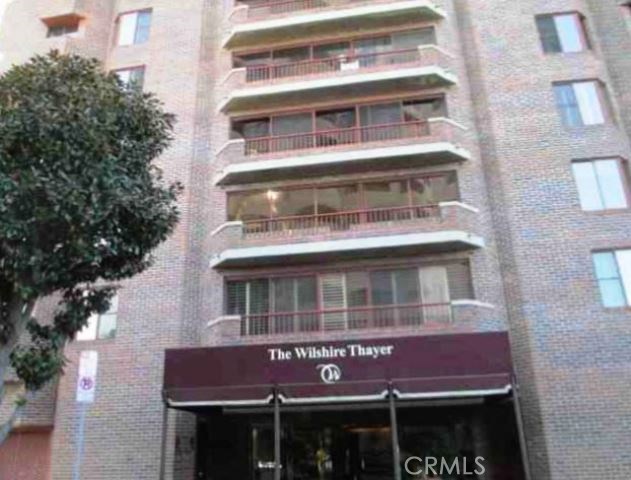 $806,700
Active
10550 Wilshire Boulevard 304 Los Angeles, California
2 Beds 2 Baths 1,711 SqFt 0.426 Acres
No properties found
Wilshire Thayer
10550 Wilshire Blvd
Los Angeles, CA 90024
Wilshire Thayer is 15-story 50-unit highrise on the Wilshire Corridor. Built in 1981 as condos by Rancho Sierra Development (Lee Danielson) & Carma Developers at an original construction cost of 35M, this is one of two Brick Buildings on the Wilshire Corridor- the Mirabella is the other one.
Over 270,000 desert brown bricks made by Huntington Pacific Ceramics were used for the façade, of those about 14,000 brick were 45 degree angle bricks that hug the curved transitions around the balconies. The brick gives Wilshire Thayer an east coast feel. The architect for the project was Charles Kober Associates. The Landscaping was designed by Lawrence Reed Moline. In front Wilshire Thayer has a cluster of Silk Floss Trees which have beautiful pink blooms and several Magnolia Trees surround the property. There are 2 penthouses.
Record Sale? #1301 PH $2,750,000  5/5/2011
Turnover?  3 condos a year or 5% to 6%
Appreciation? 2.5%
Record Sale: #404 Sale Price $800,000 7/19/2017
Turnover? 1 condo a year or 5%
Appreciation? 3%
Condo Mix
(3x) 1 BR + 1 BA (#04 stack)
850 SQFT
(4x) 1 BR + 1.5 BA + Den (#03 Stack)
1,150 sqft
(4x) 2 BR + 2BA (05 stack)
1,250 sqft
(9x) 2 BR + 2 BA + Den (01 and 02 stack + 404)
1,500 sqft
Floorplans 1 bedroom, 1 bedrom plus den, 2 bedroom 2 bedroom plus den
All floorplans are single story
Wood burning fireplaces in LR
5 units per floor
Oak cabinets
Ceramic tile original finishes
Architecture/Façade

Pricing
HOW IS THE CLOSET SPACE? Are there nice cars in the parking garage?

Laundry is inside the unit.
There are 126 parking spaces. Each condo gets 2 parking spaces, except for penthouses (1301 & 1302) which get 4 parking spaces. 22 Guest Parking spaces. You are allowed to Self Park when Valet isnt working/
HOA Dues range from $1,750/mo. to $2,000/mo.
https://www.dropbox.com/s/pbs0vkf30xbyiq8/10550%20WILSHIRE%20CC%26R%27S%20%20%281%29.pdf?dl=0
Front Desk 310-474-0400
Property Manager:
Ross Morgan 
15315 Magnolia Blvd Suite 212
Sherman Oaks, CA 91403
Phone: (818) 907-6622


Email: rmcsupport@rossmorganco.com